Effect of Calcination Temperature on The Synthesis of Silica from Bagasse
Submitted: March 04, 2021 Accepted: August 31, 2021 Published: August 31, 2021

Abstract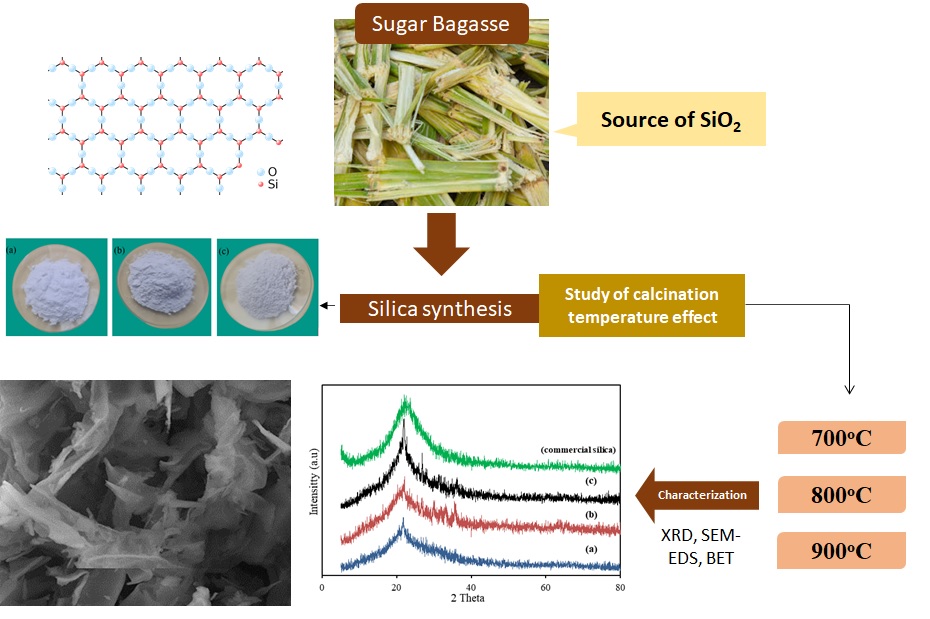 Bagasse is the solid waste derived from the sugar-making process. A large amount of silica in bagasse is a potential source of silica. In this study, extraction of silica from bagasse was carried out in the following steps: pretreatment of bagasse using HCl solution, followed by calcination at varying temperatures (700℃, 800℃, and 900℃) using a furnace. Furthermore, extraction using NaOH solution and precipitation using HCl. Silica characteristics were obtained using X-Ray Diffraction (XRD), Scanning Electron Microscopy-Electron Dispersive Spectrometry (SEM-EDS), and BET surface area. The results showed that calcination temperature affected the characteristics of the silica produced. The silica extracted at 700℃ produced an amorphous phase with a broad peak at an angle of 2θ = 20-24°. It contained the most considerable silica content and surface area, 42.46% and 796.89 cm2/g, respectively. The extracted silica had an average diameter of 5.67 mm and a pore volume of 1.184 cm3/g.
Keywords : silica, bagasse, calcination temperature
References
[1] Sholeh, M., Rochmadi, R., Sulistyo, H. and Budhijanto, B, J. Sol-Gel Sci. Technol., 2020, 97 (1), 1-12.
[2] Alves, B.H., Reis, T.V.S., Rovani, S. and Fungaro, D.A, J. Chem., 2017, 2017, 1-9.
[3] Megawati, D.S. Fardhyanti, R.D.A. Putri, O. Fianti, A.F. Simalango, A.E. Akhir. MATEC., 2018, 237, 1-6.
[4] Xu, Q., Ji, T., Gao, S., Yang, Z. and Wu, N, Materials., 2019, 12 (1), 1-19.
[5] Farirai, F., Mupa, M. and Daramola, M.O, Particul. Sci. Technol, 2020, 2020, 1-9.
[6] Norsuraya, S., Fazlena, H. and Norhasyimi, R, Procedia Eng., 2016, 148, 839-846
[7] Agredo, J.T., Gutierrez, R.M., Giraldo, C.E.E. and L.O.G. Salcedo. Ing e Investig., 2014, 34 (1), 5-10
[8] Amin, N., Faizal, M., Muhammad, K., and Gul, S, Clay. J Clean Prod., 2016, 129, 491–495.
[9] Suliman, M.E. and Almola, S.M.F, Sci. Vis., 2011, 16, 65-69.
[10] Channoy, C, Maneewan, S, Punlek, C and Chirarattananon S. Adv. Mat. Res., 2018, 1145, 44-48.
[11] Kumar, S, Malik, M,M and Purohit, R, Mater. Today., 2017, 4 (2), 350-357.
[12] Kalapathy, U, Proctor, A, and Shultz, J, Bioresour. Technol., 2000, 73 (3), 257-262.
[13] Lender, P.W, Catal. Today., 1992, 15, 243-261.
[14] Chindaprasirt, P. U, Rattanasak. Sci. Rep., 2020, 10, 1-8.
[15] Huang, C, Chang, K Ou, H, Chiang, Y, and Wang C, Microporous Mesoporous Mater., 2011, 141, 102-109.
[16] Farias, R.S, Buargue, H.G.B, Cruz, M.R, Cardosao, L.M.A, Gondim, T.A and Paulo, T.A, Eng Sanit Ambient., 2018, 23, 1053-1060.
[17] Michailidis, M, Bellido, I,S, Adamidou, E, Fernandez, Y,A,D, Aveyard, J,L, Wengier, R, Grigoriev, D,O, Raval, R, Benayahu, Y D'Sa, R, and Shchukin, D,G, ACS. Appl. Mater. Interface., 2017, 9, 38364-38372.
[18] Vaibhav. V, Vijayalakshmi, U and Roopan, S,M, Spectrochim Acta A Mol Biomol Spectrosc., 2015, 15 (139), 515-520.
[19] Affandi, S, Setyawan, H, Winardi, S, Purwanto, A and Balqis, A, Adv. Powder Technol., 2009, 20, 468-472.
[20] San, N.Y, Kursungoz, C, Tumtas, Y, Yasa, O, Ortac, B and Tekinay, T, Particulogy., 2014, 17, 29-35.
[21] Deshmukh, P, Bhatt, J, Peshwe, D and Pathak, S, Particul. Sci. Technol., 2012, 65, 63-70.
[22] Worathanakul, P, Payubnop, W and Muangpet, A, IJCME. 2009, 3, 398-400.
[23] Bahurudeen, A and Santhanam. A, Cem. Concr. Compos., 2015, 56, 32-45.
[24] Norhasyimi., R. Sabali, M. A., Sandu, A.V., Sahirona and N., Sandu, I. G. Rev. de Chim., 2016, 67 (9), 1872-1875.
[25] Kongmanklang, C and Rangsriwatananon, K, J. Spectrosc., 2015, 1-6.
[26] RA Bakar. R. Yahya, S. N. Gan. Procedia Chem., 2016, 19, 189-195.
[27] Wanyika, H, Gatebe, E, Kioni, P, Tang, Z and Gao, Z, Afr. J. Pharm. Pharmacol., 2011, 5 (21), 2402-2410.
[28] Chandrasekhar, S., Pramada, P.N. and Praveen, L, J. Mat. Sci., 2005, 40, 6533-6544.
[29] Nazriati, N., Setyawan, H., Affandi, S., Yuwana, M. and Winardi, S, J. Non. Cryst. Solid., 2014, 400, 6-11.
[30] Costa, J.A.S. and Paranhos, C.M, J. Clean. Prod., 2018, 192, 688-697.
[31] Fernades, I.J., Calheiro, D., Sanchez, F.A.L., Camacho, A.L.D., Rocha, T.L.A.C., Moraes, C.A.M. and Sousa, V.C, Mater. Res. 2017, 20 (2), 512-518.
[32] Purnawira, B., Purwaningsih, H., Ervianto, Y., Pratiwi, V.M., Susanti, D., Rochiem, R. and Purniawan, A,
IOP conf. ser., Mater. Sci. Eng
,
2019
, 541, 1-7.
Refbacks
There are currently no refbacks.
This work is licensed under a
Creative Commons Attribution-NonCommercial 4.0 International License
.