The Effect of Acidity and Aging Time in The Synthesis of Al(OH)3 from The Anodized-waste with a Sol-Gel Method
Submitted: May 12, 2019 Accepted: December 12, 2019 Published: December 12, 2019

Abstract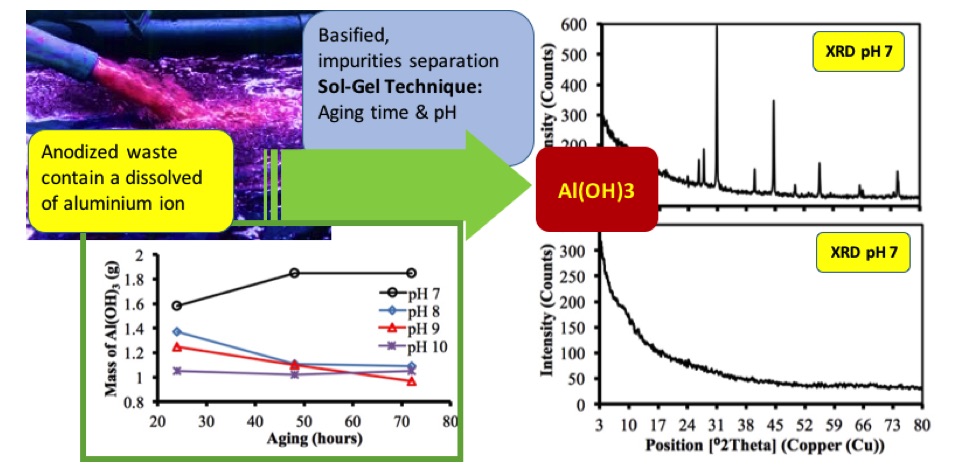 Synthesis of alumina has been carried out by utilizing anodized waste as raw material. Anodized waste is a by-product of metal anodizing processes such as aluminium. This study aims to determine the effect of acidity (pH) and aging time on the mass of Al(OH)3 and the property of Al(OH)3 as well as Al2O3 that produced. Anodized waste was deposited into Al(OH)3 and then purified. Alumina synthesized by the sol-gel method with pH variations of 7, 8, 9, and 10 and aging times of 24, 48, and 72 hours. The Al(OH)3, which has been produced, was characterized by PSA and powder XRD spectrophotometer. The results showed that the synthesis of Al(OH)3 was influenced by pH and aging time. It affects the yield and particle size of Al(OH)3. The optimum condition of the synthesis was pH 7 and aging time of 24 hours with yield of 1.85 grams. Characterization by PSA at a current diameter of 90% indicate that higher pH value and longer aging time produces smaller particle size. Characterization by powder XRD shows that the Al(OH)3 has gibbsite crystal phase with d values of 3.360, 3.217, 2.252, 2.029, and 1.649 Å.
Keywords : liquid waste; alumunium hydroxide; sol-gel method;
References
[1] Aditia, D., Usma, R. & Yuniati, Y. Jurnal Mesin Sain Terapan, 2019, 3(2) 47-52.
[2] Kwartiningsih, E., Anitra, N., & Pungky T., Putukeda, Ekuilibrium, 2010, 9(1), 35-40.
[3] Naziruddin, M., Patrick, G. C., & McCune, L., Met. Fin., 1992, 90(2), 69-74.
[4] Srinivasan, P.T., Viraraghavan, T., & Subramanian, K.S., Water SA, 1999, 25(1), 42-55.
[5] Mymrin, V., Pedroso, D.E., Pedroso, C., Alekseev, K., Avanci, M.A., Winter Jr., E., Cechin, L., Rolim, P.H., Iarozinksi, A. & Catai, R.E., J. Clean. Prod., 2018, 174, 380-388.
[6] Zhang, X., Zhang, X., Graham, T.R., Pearce, C.I., Mehdi, B.L., N'Diaye, A.T., Kerisit, S., Browning, N.D., Clark, S.B., & Rosso, K.M., Crys. Growth Des., 2017, 17(12), 6801-6808.
[7] Zawrah, M.F., El-Defrawy, S.A., Ali, O.A., Sadek, H.E.H. & Ghanaym, E.E., Ceram. Int., 2018, 44(8), 9950-9957.
[8] Ahmedzeki, N.S., Hussein, S.J., & Abdulnabi, W.A., Iraqi J. Chem. Petrol. Eng., 2018, 19(1), 45-49.
[9] Singh, I.B., Gupta, A., Dubey, S., Shafeeq, M., Banerjee, P. & Sinha, A.S.K., J. Sol-Gel Sci. Techn., 2016, 77(2), 416-422.
[10] Wardani, D. & Pratapa, S., Jurnal Sains & Seni ITS, 2014, 3(2), B22-B23.
[11] Kurniasari, I.D. & Maharani, D.K., UNESA J. Chem., 2015, 4(1), 75-80.
[12] Irawati, U., Sunardi, S. & Suraida, S., Molekul, 2013, 8(1), 31-42.
[13] Nugroho, D.W., Akwalia, P.R., Rahman, T.P., Nofrizal, Ikono, R., Widiyanto, W.B., Sukarto, A., Siswanto, S. & Rochman, N.T., Prosiding Pertemuan Ilmiah Ilmu Pengetahuan dan Teknologi Bahan, Serpong, 2012, 63-66.
[14] Meirawati, D., Wardhani, S., & Tjahjanto, R. T., Jurnal Ilmu Kimia Universitas Brawijaya, 2013, 2(2), 524-531.
[15] Mardiana, I., Wardhani, S., & Purwonugroho, D., Jurnal Ilmu Kimia Universitas Brawijaya, 2013, 2(1), 337-343.
[16] Wang, L.Y., Tong, D.S., Zhao, L.Z., Liu, F.G., An, N., Yu, W.H., & Zhou, C.H., Ceram. Int., 2014, 40(10), 15503-15514.
[17] Munawarti, N.D., Permatasari, D., Wulandari, R., dan Wardhani, S., Prosiding Seminar Nasional Kimia, 2015, 29-33, ISBN: 978-602-0951-05-8.
[18] Souza, A.D., Arruda, C.C., Fernandes, L., Antunes, M.L., Kiyohara, P.K. & Salomão, R., J. Eur. Ceram. Soc., 2015, 35(2), 803-812.
[19] Vogel, A.I. & Svehla, G., Vogel's qualitative Inorganic Analysis, 7th ed., Pearson Education, 2008.
[20] Rachmawati, S.W. & Iswanto, B., Indones. J. Urban. Environ. Technol., 2009, 5(2), 40-45.
[21] Fitri, N.T.D., Extraction and yield determination of alumunium ion from fly ash, Undergraduate thesis, Chemistry department, Jember University, 2013.
[22] Yuniarti, E., Triwibowo, J. & Suharyadi, E., BIMIPA, 2013, 23(3), 218-228.
[23] Wefers, K & Misra, C., Oxides and hydroxides of Aluminum, 19 revised, ALCOA, Laboratories Aluminum Company of America, 1987.
Refbacks
There are currently no refbacks.
This work is licensed under a
Creative Commons Attribution-NonCommercial 4.0 International License
.