The Effect of Rice Bran Cereals on Total Cholesterol, Malondialdehyde (MDA) Levels and Histopathology Description of Aortic Organ on Mice Model of Hypercholesterolemia
Submitted: July 03, 2018 Accepted: September 20, 2018 Published: November 22, 2018

Abstract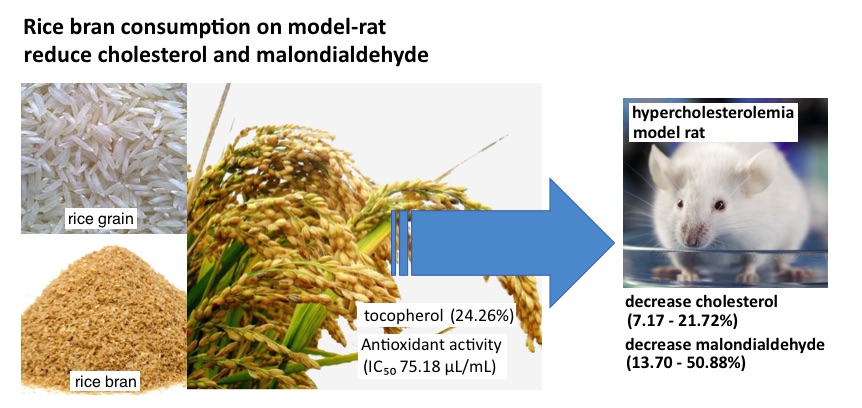 Rice bran cereals could be used as the alternative treatment on hypercholesterolemia condition. Tocopherol as an antioxidant and dietary fiber as cellulose, hemicellulose, and lignin which contained in rice bran cereals have the potential to decrease total cholesterol
and malondialdehyde levels. The aims of this study are to determine the role of rice bran cereals to decrease total cholesterol, malondialdehyde levels and improve the histopathology
of the aortic organ due to hypercholesterolemia. This study used rats (Rattus Norvegicus) as animals model which were divided into 5 groups: control group (healthy rats), hypercholesterolemia group (sick rat) and 3 therapy groups with variation dose respectively 270, 540 and 810 mg/kg body weight. Data analysis for total cholesterol and malondialdehyde levels used one-way ANOVA with α = 0.05 with Tukey test as a follow-up test. The results of statistical analysis proved that rice bran cereals with a dose of 810 mg/kg body weight effect for the changes of total cholesterol and malondialdehyde levels which are 21.72% and 50.88%, respectively. In addition, results showed that rice bran cereals therapy could significantly influence (p = 0.05) decrease of total cholesterol, malondialdehyde levels and improve the histopathology of an aortic organ in hypercholesterolemic rats.
Keywords : hypercholesterolemia, rice bran cereal, total cholesterol level, MDA level, histopathology aorta
References
[1] R. K. Murray, David A. Bender, K. M. Botham, Peter J. Kennelly, V. W. Rodwell, dan P. Anthony Weil, Biokimia Harper, 29 ed, 2014, Buku Kedokteran EGC, Jakarta.
[2] National Cholesterol Education Program, National Heart, Lung, and Blood Institute, dan National Institutes of Health, Detection, Evaluation, and Treatment of High Blood Cholesterol in Adults (Adult Treatment Panel III), 2002, NIH Publication No. 02-5215.
[3] Alifiani Nur Rohma, Chanif Mahdi, Aulanni'am, JPACR, 2017, 6(2), 160–165.
[4] Fauziah Fauziah, Aulanni'am, Chanif Mahdi, JPACR, 2013, 2 (3), 102-107.
[5] Hennig, B. and Chow. C.K., FRBM, 1988, 4, 99-106.
[6] Papaharalambus, C. A. and Griendling K. K., TCM, 2007, 17(2), 48-54.
[7] Nur Nashriana J, Bambang Wirjatmadi, Merryana Adriani, JKB, 2015, 28 (3), 208-212.
[8] Angela J. Henderson, Cadie A. Ollila, Ajay Kumar, Erica C. Borresen, Komal Raina, Rajesh Agarwal, Elizabeth P. Ryan, ASNAN, 2012, 3, 643-653.
[9] Marissa Agnestiansyah, Aulanni'am, Chanif Mahdi, JPACR, 2013, 2(2), 72-78.
[10] John N. Hathcock, Ph.D, Vitamin and Mineral Safety, 3 ed, 2014, CRN, Washington, D.C.
[11] T. A.Wilson, R. J.Nicolosi, B. Woolfrey, D. Kritchevsky, JNB, 2007, 18(2), 105-112.
[12] Hernawati, W. Manalu, A. Suprayogi, D. A. Astuti, MKB, 2013, 45(1), 1-9.
[13] H.-B. Shao, L.-Y. Chu, Z.-H. Lu, and C.-M. Kang, IJBS, 2008, 4(1), 8–14.
[14] E. Damayanthi, L. Kustiyah, M. Khalid, dan H. Farizal, JGP, 2010, 5 (3), 205-210.
[15] J. K. S. Lung, D. P. Destiani, Farmaka, 2017, 15(1), 53-62.
[16] A. S. V. C. Rao, S. G. Reddy, P. P Babu, and A. R Reddy, BMC CAM, 2010, 10(4), 1-9.
[17] W.-U.-Zaman, M. Akram, R. Rehman, J. Anwar, JCSP, 2012, 34(2), 302-305.
[18] H. Widada, Mutiara Medika, 2013, 13(3), 143-150.
[19] G. R. Buettner, Arch Biochem Biophys, 1993, 300(2), 535-543.
[20] L. Maslachah, R. Sugihartuti, R. Kurniasanti, MKH, 2008, 24(1), 21-26.
[21] N. Gani, L. I. Momuat, M. M. Pitoi, JMUO, 2003, 2(1), 44-49.
[22] N. Bragagnolo, D.B. Rodriguez-Amaya, JFCA, 2003, 16, 147-153.
[23] N. W. Bogoriani, K. Ratnayani, Jurnal Kimia, 2015, 9(1), 53-60.
[24] I. Zaki, A. Johan, JGI, 2015, 3(2), 108-115.
[25] S. Murwani, M. Ali, K. Muliartha, JKB, 2016, 22(1), 6-9.
[26] Arun K. Das, A.S.R. Anjaneyulu, Rajendran Thomas, N. Kondaiah, JMF, 2009, 20, 37–53.
[27] C. G. Nuansa, D. T. Istyanti, JTK, 2013, 2 (2), 18-24.
[28] U. N Singh, S. Kumar, S. Dhaka, IJCMR, 2017, 4(5), 1204-1207.
[29] S. Bhattacharya, K. K. M. Ahmed, S. Chakraborty, FRA, 2011, 1(1), 17-22.
[30] A. Ishiyama, K. Atarashi, M. Minami, M. Takagi, K. Kimura, A. Goto, And M. Omata, Kidney Int., 1999, 55, 1348-1358.
[31] Kevin C. Kregel, Hannah J. Zhang, AJPRICP, 2007, 292, 18-36.
[32] I. Wahyuningrum, E. Zubaidah, JPA, 2016, 4 (1), 127-136.
[33] T. S. Kahlon, F. I. Chow, M. M. Chiu, C. A. Hudson, R. N. Sayre, Cereal Chem, 1996, 73(1), 69-74.
[34] M. A. Rosenbaum, K. Miyazaki, L. M. Graham, JVS, 55 (2), 489-496.
[35] R.-L. Yang, Y.-H. Shi, G. Hao, W. Li, G.-W. Le, JCBN, 2008, 43 (3), 154-158.
[36] I. Kusumastuty, IJHN, 2014, 1 (1), 50-56.
[37] Halliwell, B., Br. JEP, 1989, 70, 737-757.
[38] T. L. Zern, R. J. Wood, C. Greene, K. L. West, Y. Liu, D. Aggarwal, N. S. Shachter, M. L. Fernandez, J. Nutr, 2005, 135(8), 1911–1917.
Refbacks
There are currently no refbacks.
This work is licensed under a
Creative Commons Attribution-NonCommercial 4.0 International License
.