Study of Hydrolysis on Pb(ZrxTi1-x)O3 Synthesis Using Zirconium(IV) Nitrate as Precursor and Their Densification Process
Submitted: May 21, 2018 Accepted: July 06, 2018 Published: September 10, 2018

Abstract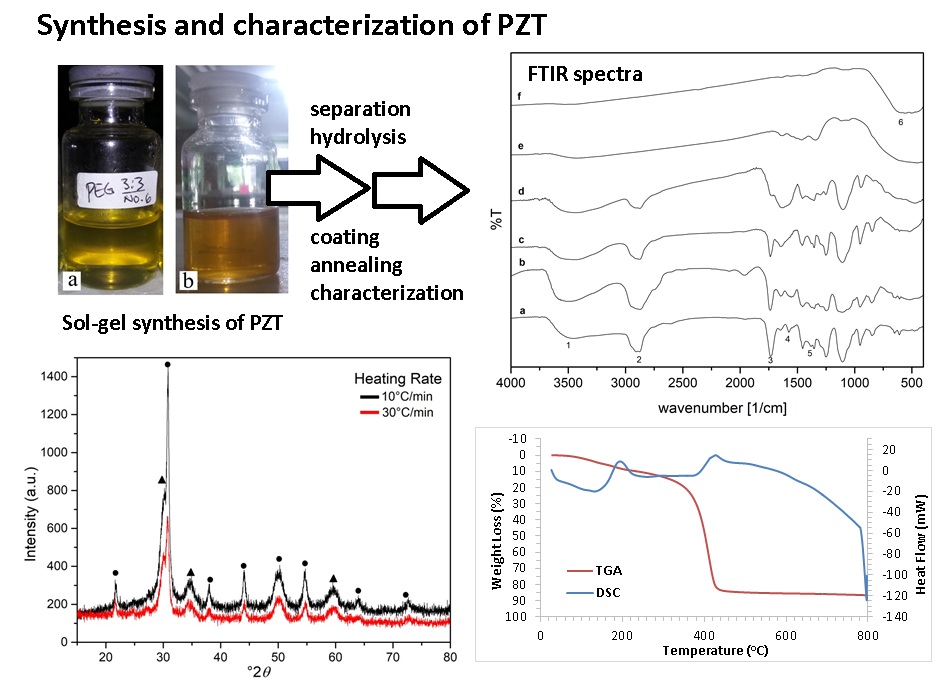 Pb(ZrxTi1-x)O3 has extensive application in electronic components as a thin layer. The densification layer is controlled by some factor such as precursor composition and heating techniques. Therefore, it is necessary to get simply precursor synthesis from zirconium(IV) nitrate stabilized polyol-acetate. In other hand, hydrolysis factor and the heating rate are affected as well as factor control. The PZT synthesis (55:45) was varied in Rw ratio as comparing water mole and the total mole of metal. The result of Rw = 0, 6, 9, and 12 are coated on silicon substrates and annealed with heating rates variate 1, 5, 10, and 30 °C/min for 650°C. The characterization and analysis were performed with FTIR and a microscope. Furthermore, the thermal dynamic behavior and crystal orientation are observed. The results show PZT synthesis from zirconium(IV) nitrate precurseor and PEG-acetate was stable and that can reproduce. The effect of rising of heating rate causes the dissipating PZT agglomeration, while the addition of water causes the cracking of crystals to become more massive.
Keywords : PZT synthesis; water hydrolysis; sintering rates; thin film
References
[1] Hindrichsen, C. G., Lou-Møller, R., Hansen, K., Thomsen, E. V. Sensors and Actuators, A: Physical 2010, 163 (1), 9–14.
[2] Uchino, K. International Center for Actuators and Transducers, Pennsylvania State University 2003, No. 5, 40.
[3] Izyumskaya, N., Alivov, Y.-I., Cho, S.-J., Morkoc, H., Lee, H., Kang, Y.-S. Critical Reviews in Solid State and Materials Sciences 2007, 32, 111–202.
[4] Ghoneim, M. T., Zidan, M. A., Alnassar, M. Y., Hanna, A. N., Kosel, J., Salama, K. N., Hussain, M. M. Advanced Electronic Materials 2015, 1 (6), 1–10.
[5] Lian, L., Sottos, N. R. J. Appl. Phys. 2000, 87 (8), 3941.
[6] Shakeri, Amid; Abdizadeh, Hossein; Golobostanfard, M. R. Advanced Materials Research 2013, 829 (January 2016), 698–702.
[7] Tang, X. G., Ding, A. L., Ye, Y., Chen, W. X. Thin Solid Films 2002, 423 (3), 13–17.
[8] Lakeman, C. D. E., Payne, D. A. Journal of the American Ceramic Society 1992, 75 (11), 3091–3096.
[9] Bruncková, H., Medvecký, L., Briančin, J., Saksl, K. Ceramics International 2004, 30 (3), 453–460.
[10] Scott, J. F., Paz De Araujo, C. A. Ferroelectrics 1990, 112 (1), 329–351.
[11] Kosec, M., Kolar, D., Stojanovic, B. High Tech Ceramics 1987, 36 (199257), 2127–2134.
[12] Lapailaka, T., Tjahjanto, R. T., Masruroh. Chimica et Natura Acta 2014, 1 (2), 61–65.
[13] Ryu, J., Choi, J.-J., Kim, H.-E. Journal of the American Ceramic Society 2001, 84 (4), 902–904.
[14] Taylor, P., Hall, C. E. No. January 2015, 37–41.
[15] De-Qing, Z., Shao-Jun, W., Hong-Shan, S., Xiu-Li, W., Mao-Sheng, C. Journal of Sol-Gel Science and Technology 2007, 41 (2), 157–161.
[16] Zak, A. K., Majid, W. H. A. Journal of Optoelectronics and Advanced Materials 2010, 12 (8), 1714–1719.
[17] Lipeles, R. A., Coleman, D. J., Leung, M. S. 1986, 73, 665–670.
[18] Kern, W., Soc, J. E. Journal of the Electrochemical Society 1990, 137 (6), 1887–1892.
[19] Asuha, H. K., Maida, O., Takahashi, M., Iwasa, H., Kobayashi, H., Maida, O., Takahashi, M., Iwasa, H. 2010, 7328 (2003).
[20] Bose, A., Maity, T., Bysakh, S., Seal, A., Sen, S. Applied Surface Science 2010, 256 (21), 6205–6212.
[21] Rastogi, A. C., Darvish, S. R., Bhatnagar, P. K. 2002, 73, 135–143.
[22] Bhaskar, A., Chang, T. H., Chang, H. Y., Cheng, S. Y. Applied Surface Science 2009, 255 (6), 3795–3800.
[23] Yoon, D. H., Raju, K., Min, B. K., Reddy, P. V. Ceramics International 2014, 40 (8 PART B), 13497–13505.
Refbacks
There are currently no refbacks.
This work is licensed under a
Creative Commons Attribution-NonCommercial 4.0 International License
.