NPK Fertilizer With Slow Release Fly Ash
Submitted: July 17, 2017 Accepted: October 04, 2017 Published: January 04, 2018

Abstract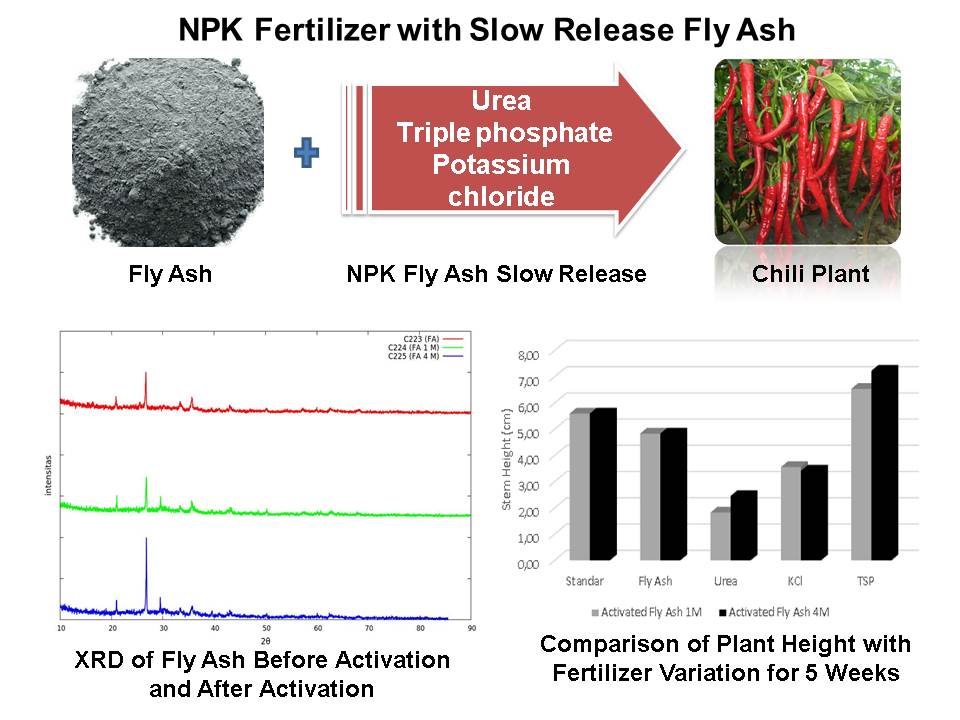 Fly ash is the solid of the remaining coal combustion carried along with the exhaust gas and captured by the air controller. Fluids in fly ash are Al2O3, SiO2, Fe2O3, CaO, MgO, Na2, and SO3 which are similar to zeolites. So that fly ash can be used as a substitute for zeolite for various carrier of fertilizer. The result of slow release test is known that N element has higher release level. The NPK fertilizer activity test of Fly Ash Slow Release was done on chilli plant with parameter of variation of fertilizer composition and plant height. Based on research result, fly ash-TSP 2: 1 fertilizer has the best result.
Keywords : fertilizer, slow release, fly ash, NPK, granule
References
[1] Setyawan, P, S., Sri, S., Unggul, P, J., J. Pure App. Chem. Res., 2016, 5(1), 1-8.
[2] Ghais Afaf, Duaa Ahmed, Ethar Siddig, Isra Elsadig, Samah Albager, IJG, 2014, 5, 1445-1450.
[3] Ganiron, Tomas U Jr, IJSAT, 2013, 60, 33-44.
[4] Srivastava, Anoop K, S, P, Gautam, IJEPR, 2016, 4(4), 24-33.
[5] Wardhani, S., Danar P., Reno, S, E., J. Pure App. Chem. Res., 2017, 6(3), 207-220.
[6] Donahoe, Rona J, and J.G.Ltou, Clays Clay Miner., 1984, 32(6), 433-443.
[7] Palomo, a., Ana, F-J., Alkaline Activation, Procedure for Transforming Fly Ash into New Materials. Part I: Applications, World of Coal Ash Conference, 2011, Denver, USA.
[8] Palomo, A, Santiago, A., Ana, F-J., J Am Ceram Soc., 2004, 87(6), 1141-1145.
[9] Pratomo, K. R., Jurnal Zeolit Indonesia, 2009, 8(2), 83-88.
[10] Nainggolan, Ganda Darmono, Jurnal Zeolit Indonesia, 2009, 8(2), 89-96.
[11] Sarkar, A., Anupama, S., Agrawal, S., B., Bulletin of the National Institute of Ecology, 2012, 23, 1-12.
[12] Subhash, V, P., Yuwaraj, M, G., Sanjay, S, J., Indian Journal of Materials Science, 2014, 2014, 1-6.
[13] Ayanda, O, S., Olalekan, S, F., Fohalan, A, A., Bhekumusa, J., X., E.-J. Chem., 2012, 9(4), 1788-1795.
Refbacks
There are currently no refbacks.
This work is licensed under a
Creative Commons Attribution-NonCommercial 4.0 International License
.