Estimation of Ketorolactromithamine in Phamaceutical Samples and Biofluids by The New Validated UPLC Method
Submitted: January 19, 2017 Accepted: April 27, 2017 Published: May 06, 2017

Abstract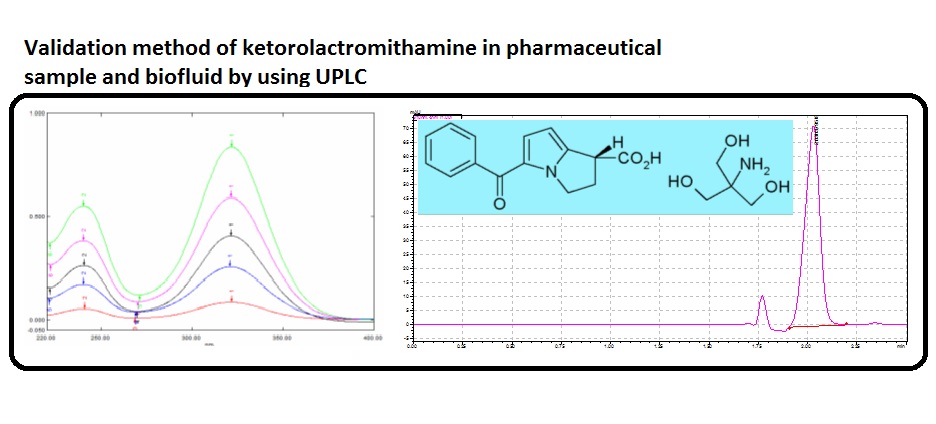 A new UPLC method has been described to determine ketorolac tromethamine in pharmaceutical samples and biofluids. Drug was eluted using a reversed-phase Gemini 3U, C18, 110R (150 × 4.6 mm, 3 μm) column when a mobile phase composition 90:05:05 (v/v) consisting CH3OH, CH3CN and NaH2PO4 under isocratic program.Ketorolac tromethamine was eluted at a short of time 2.02 min. Ketorolac tromethamine isolated from biofluids after liquid-phase extraction. The results were linear up to 10 µg mL-1 with the correlation coefficients greater than 0.999. The sensitivity limits, LOD and LOQ were 0.016 and 0.051 µg mL-1, respectively. The method is simple, fast and reliable with good specificity and sensitivity and will be suitable for routine analysis of ketorolac tromethamine.
Keywords : Ketorolac tromethamine, pharmaceutical samples and biofluids, UPLC method
References
[1] Rang H, Dale M, Ritter J and Flower R, Pharmacology, 6th Ed., Churchill Livingstone, Elsevier, 2007, 227-230.
[2] Wang Z, Dsida R., and Avram M. J., J. Chromatogr. B, 2001, 755(1-2), 383-386.
[3] Warner T. D., Mitchell J. A., FASEB J, 2004, 18, 790-804.
[4] Galán-Herrera J. F., Poo J. L., Maya-Barrios J. A., de Lago A., Oliva M. S. I., . Mario González-de la P., Patricia J., Ericka L., Victoria B., Salvador N., Clin Ther, 2008, 30, 1667-1674.
[5] Dave, J. B., P. J. Vyas, C. N. Patel, Chron. Young Sci., 2013, 4(1), 24-31.
[6] Martindale, The Complete Drug Reference, 35th Edition, 2004, London, Pharmaceutical Press.
[7] Committee on the Safety of Medicines and Medicines Control Agency, Curr. Prob. Pharmacovigilance, 1993, 19, 5-8.
[8] Strom BL, Berlin JA, Kinman JL, Spitz PW, Hennessy S, Feldman H, Kimmel S, Carson L, JAMA, 1996, 275, 376-82.
[9] R Singh, APathak, P Chawla, Indian J. Pharm. Biol. Res., 2013, 1(4), 95-101.
[10] Bhagyashree R. D., K. P. Bhusari, M. R. Tajne, M. H. Ghante, N. S. Jain, Indo American Journal of Pharm Research. 2014, 4(7), 3248-3257.
[11] Razzaq S. N., Khan I. U., Quim. Nova. 2012, 35(6), 1216-1221.
[12] Jayant B. Dave, Pratik J. Vyas, Chhagan N. Patel, Chron. Young Sci., 2013, 4(1), 24-31.
[13] Chaudhary R, Gangwal S, Jindal K and Khanna S, J. Chromatogr. B, 1993, 614(1), 180-184.
[14] Jones D and Bjorksten A, J. Chromatogr. B, 1994, 661(1), 165-167.
[15] M. N. Uddin, S. Das, S. H. Khan, S. K. Shill, H. R. Bhuiyan, R. Karim, J Taibah Univ Sci, 2016, 10(5), 755-765.
[16] Patri, S., A. K. Patni, S. S. Iyer, A. H. Khuroo, T. Monif, S. Rana, S. Kumar, and R. Jain, Chrom. Res. International, 2011, 2011, 1-11.
[17] Logan, B. K., Friel, N. P., Peterson, K. L., Predmore, B. B., J. Anal. Toxicol., 1995, 19, 61.
[18] ICH Harmonized Tripartite (1996) Validation of Analytical Procedures: Text and Methodology Q2 (R1), Current Step 4 Version, Parent Guidelines on Methodology Dated November 6 1996, Incorporated in November In: International Conference on Harmonisation, 2005, Geneva, Switzerland.
Refbacks
There are currently no refbacks.
This work is licensed under a
Creative Commons Attribution-NonCommercial 4.0 International License
.